Tranquillity and comfort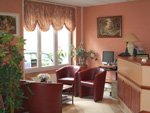 The Neptune Hotel is a quiet, warm establishment located in the 13th arrondissement of Paris, near Place d'Italie, the Latin Quarter and the Italie I and II shopping malls.
The hotel benefits from an excellent location and it is very well connected by public transport (Place d'Italie metro station is only a few metres away). Besides, it is surrounded by cafés, restaurants and shops.
The Neptune Hotel has 26 rooms.
If you wish to spend a nice stay in Paris in a family, quiet environment, do not hesitate. We are waiting for you at Neptune Hotel!
See the ubication
Features
Activity centers
Close to the metro
Hotel very quiet
Free wifi